last update : 16/11/2017
Power BI - Dashboard in a Day

Presenter: David Moss, MVP Data Platform and Freelance Data Guru.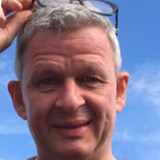 "Power BI – Dashboard in a Day" is a day-long instructor led, hands-on tutorial with guided exercises to accelerate understanding how to use Microsoft Power BI www.powerbi.com to connect to, gather and transform data, build real data models, create visualizations to gain insights and culminating in creating and sharing Power BI dashboards & apps, with the end goal of leaving the workshop with a solid foundational knowledge of Power BI and a working dashboard of data.
David Moss is a freelance Azure & Power BI Solutions Consultant and Trainer @wottabyte, and a Microsoft MVP (Most Valued Professional). He helps organisations get quicker access & better understanding of their data using Azure tools & Power BI. He is also a BI Tableau analyst & developer. He is traditionally a Business Intelligence analyst & BI developer with systems accountant & big data ecosystem experience, including Machine learning, R & predictive analytics.
Submit your details to download the brochure:
Related events