last update : 30/08/2017
Value Driven Agile: How to deliver values and qualities early, frequently and continuously

For a combined price of any one of the conferences Agile Expo, Test Expo or DevOps Expo and the workshop, please contact info@unicom.co.uk
Agile, as usually taught is a framework, and you are expected to tune it to your needs. Most versions of agile do not explicitly teach you how to deal with IT system qualities and other values. The result, if you do not take action, is usually focus on delivering an IT system, or even worse 'code'. The average agile failure rate is 40% (Sutherland), and Scrum says they have 'only' 19% project failure (Sutherland). Failure means that you did not deliver the quality and values stakeholders expect within budget and deadline. IT systems should in our opinion have near zero failure rate. But then we have add something that most people do not have in place. This addition is explicit targeting of numeric stakeholder values and qualities; together with management of the deadline and budget.
1.Overview: Agile supplements to Scrum.
2.Quantified Value and Quality Requirements: business results focus.
3.Quantification of all strategies and architecture: technology must serve business results.
4.No Cure No Pay Contracting: agile contracting for value not code & work.
5.Dynamic Design to Cost: agile quality, value and cost management.
6.Advanced Product Owner Responsibilities and Capability: much better requirements and design than conventional agile offers.
7.Summary: Management Policy for Value Driven Agile.
Please bring, if possible, a laptop or tablet etc so you can access fully the presentation and other documentation, as well as tools for smart advanced quality and cost decision-making and communication or presentation.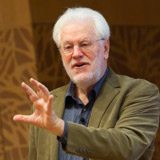 Tom Gilb and Kai Gilb have, together with many professional friends and clients, personally developed the Agile methods they teach. The methods have been developed over five decades of practice all over the world in both small companies and projects, as well as in the largest companies and projects. Their website www.Gilb.com/ offers blogs, videos, books, papers, slides, and cases about Agile and other subjects.
His new (digital only) book 'Value Planning' 2016 is available digitally (leanpub.com/ValuePlanning, and gilb.com (discount for participants)
Tom has guest lectured at universities all over UK, Europe, China, India, USA, Korea – and has been a keynote speaker at dozens of technical conferences internationally. He did a TEDx talk in Trondheim in 2013.
Tom is an Honorary Fellow of the BCS.
Submit your details to download the brochure:
Related events